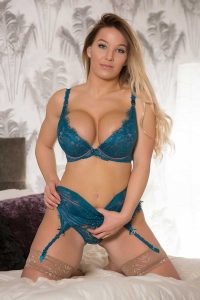 Amber Jade
Amber might be new to Babestation but she is no stranger to the glamour industry, having established herself as a professional cam girl over the past few years. Amber first stepped into the Babestation studio just a few weeks ago and she has really made her mark in that short time. I caught up with Amber during her first shift and decided to ask her a few personal questions to really get to root of what makes her tick. Here's what she had to say:
What made you want to appear on Babestation?
Being a cam girl, I love what I do and Babestation was something I had always been a fan of. When the opportunity came I just couldn't say no!!!
What has been your previous experience in the industry?
I've been a webcam model for the last few years and love to get naughty on there with all the guys and girls.
Have you ever experimented with the opposite sex?
Yes, girls are just as much fun as guys. I consider myself a pro at pulling girls, especially when they are not fully turned
I love a challenge!
What has been your most memorable experience while working/performing?
Being the top viewed room on the cam site for over 10 hours one weekend when I had some girl friends over to webcam together. We had so much fun sharing our first lesbian threesome and getting naughty. The guys enjoyed it almost as much as we did!
What is your favorite sexual position?
Doggy is definitely my favourite, it's all about the ass in my world! But I do love cowgirl, I love it when the guy can see my big fake boobs bouncing on top of them. I also love being on the bottom and 69ing with a girl, is there any better view?
What do you look for in a guy?
They must be a gentleman, have banter and not take life too seriously. Of course they must be good in the bedroom, I do love a naughty guy.
What would you say are your three best features?
Boobs, ass and eyes
What is your favourite 'going out' outfit?
A barely there outfit, I love heels too, ready for the bedroom once the night is over!
Do you like to role play?
I love to role play, it adds excitement and I never struggle to get into character.
Where is the most unusual place you've ever had sex?
Probably in a swimming pool on Holiday!
If you were stranded on a desert island what three items would you take?
Definitely a dildo and string bikini to get some good tan lines on my ass and boobs.
What's the craziest thing you've done on a night out?
I always seem to think it's a good idea to show off my boobs to everyone, I guess I just can't help myself.
Well that concludes our interview, boys! It's rare that I enjoy interviewing a girl this much but Amber had such an open and honest way about her and she just oozed sex appeal during our entire interview. I found myself leaving the studio with a bit of a girl crush on Amber Jade. I think it'll be tough for anyone not to fall for this girl. Keep an eye out for her on the show, guys, you'll fall in lust immediately! She's the complete package!