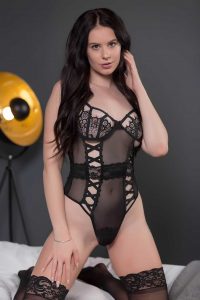 Amber Paige Nude & Sexy
Sexy British brunette Amber Paige has become one of the most popular Babestation models around over the last few years. Appearing regularly on both the Babestation TV channels, and the Babestation cam platform, she now has tens of thousands of fans across the UK and the world. Best British Babes showcases Amber Paige nude in gallery after gallery on our site, showing her topless, exposing her pussy and more.
Amber Paige Blogs
Amber Paige Babestation:
Amber Paige comes from Buckinghamshire in the UK, and started working for Babestation during the pandemic in 2020. She tried a test shift on Babestation and loved it so much she quit her job the next day! She has rapidly become a firm favourite amongst Babestation and babechannels fans, with thousands of customers flocking to the Babestation website whenever Amber goes live on cam.
Amber Paige also recently showed that she has a heart of gold alongside her sexy curves, when she, along with her Babestation colleagues Megan Rox and April Mae, decided to help out her fans during the difficult economic times, by reducing the cost of a sexy cam session.
Every week Amber can be found at Babestation.tv – doing sexy live shows with other babes and solo, and getting super dirty 1 to 1 on cam sessions with fans.
Amber Paige Naked:
Luckily for all redblooded males, the sexy Amber Paige has no problem being photographed nude. Whether topless or exposing her pussy, she loves to get sexy in front of the camera. We have many Amber Paige nude galleries waiting for you to get off on.
Amber Paige Porn Gallery:
Best British Babes only selects the most beautiful and sexy British glamour models, babechannels babes, porn stars and other sexy influencers from across the UK. Whilst there is nothing wrong with babes from other countries, we just cannot resist the British babes. Gorgeous brunette babe Amber Paige, with her sexy, sensual looks, fits the bill for us 100% – she is exactly the sort of babe we like! That's why we are constantly seeking out more content for Amber Paige – we already have several galleries for her, and will be adding more and more all the time, so bookmark the page and check back often!
Amber Paige Onlyfans:
Like many porn stars and adult performers these days, Amber Paige has her own Only Fans page, giving out exclusive sexy content for fans who subscribe to her channel. Luckily she also has a lot of content on our site too, and on Babestation. 
Amber Paige Leaked:
Some sites out there claim to have Amber Paige leaked content, but on Best British Babes we don't need that, as we have tons of Amber Paige content just for you.
Amber Paige Links:
If you are a massive Amber Paige fan, there are a lot of other places to see her sexy content: