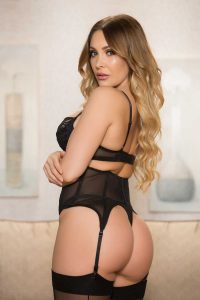 Ashley Emma
Ashley Emma is a sexy buxom blonde model who's pics have appeared in men's magazines such as Nuts, Zoo and FHM since the tender age of 18. When she turned 21 she started appearing on the UK babe channels and was an instant hit first on Studio 66, then on Babestation. Over time she became an expert in teasing guys on Pervcam while laying nude on TV.
Webcam users beg to see pussy and Ashley loves to tease. Watch her get naked, wet and wild in a steamy shower show just for you. Check out one of Ashley's XXX videos for a taste of what you're in for then meet her on Babestation Cams for the real thing.
What naughty things do you get up to on Babestation Cams & Pervcam?
I aim to please so I try to always keeps things varied and interesting with really raunchy webcam shows. We can do anything from a porn JOI fantasy to a naughty, nude striptease.
When Ashley isn't working she loves to party with her best girlfriend Lori Buckby. They are true partners in crime and are always getting into mischief together. In fact when the pair of them are in the studio together, the producers are always nervous about whats going to happen. They once had a food fight that ended in them having to go on air whilst still dripping in chocolate sauce.
Ashley is fun-loving, bubbly and a little ditzy by her own admission. She is the ultimate blonde siren!