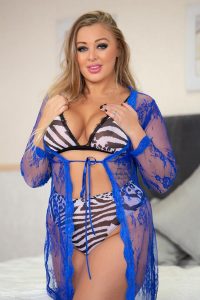 Beth Bennett
The Babeshows Babe from New Zealand
Beth Bennet is one of the most popular models, originally from New Zealand and stumbling across Babestation one night a few weeks after she arrived in the UK. It didn't take her long to pack in her Cinderella-esque live in barmaid job & begun on her Babestation adventure.
What was going to be just a few months traveling after finishing uni, morphed into 5 years at Babestation with no end in sight. Beth Bennet loves guys who don't take things too seriously, so if you're looking for a cheeky chat with a healthy dose of sarcasm and a NZ twist then she's your girl!
Quite a lot of Beth's fans got to know her from porn focused set of videos but watching old blowjob videos or even hardcore sex that has been watched 1000 times before is not a patch on the personal interaction you get when you pick up the phone and speak to her in person. Naked pictures on Instagram are great but two way personal interaction is so much better. Take a look at the galleries below to see a sample of what you are missing.
Babeshows Debut: July 2012
Beth Bennet's Raunchy Fantasy:
Backpacking and raunchy sex
Being a kiwi girl living in the UK, I'm no stranger to traveling, so it should come as no surprise that my kinky fantasy involves backpacking and raunchy sex. Sometimes when I'm lying alone in my bed at night I'll let my mind wander and I'll imagine I'm staying in a run-down hostel somewhere in Peru. I picture coming back after a day of sightseeing, hot and dripping with sweat. I strip off, wrap a towel around myself and head to the showers. I drop my towel to the floor and step into the shower.
I start soaping up my big tits and sweaty ass and pussy. I let the warm water trickle down my curvy body.
The power of the water against my breasts makes my nipples hard and I start getting aroused. I lift the shower head off the holder and slide it down between my legs, making sure the jets are aiming at my engorged clit. I let out a loud moan then suddenly the shower curtain is pulled open swiftly. Then I notice two hot young guys staring at me while I'm soaking wet and completely nude, still holding the shower head on my clean-shaven cunt. They look at me in amazement! I say "what are you waiting for? Get in" and they quickly remove their clothes and climb into the shower with me. Their hands and mouths are everywhere – my buttocks, stomach, back, neck, pussy lips and clit. The feeling of having two guys rubbing up against me is incredible!
I grab their hard cocks and start wanking them off at the same time, rubbing my thumb over the top so I can feel their sticky pre-cum. I bend over and tell one of the guys to fuck my tight wet hole whilst I give his friend a blowjob. I love sucking dick! I take it deep until I'm gagging on his length. Spit is all over my slutty face! As one guy fucks me deep and rough, the other one pulls my hair and tells me to deepthroat his penis so that his big hairy balls are bashing against my chin. The guys then swap around and I feel my ass cheeks being spread open. I feel a warm tongue sliding into my asshole and push back on his face. I then scream "pound my ass" and I feel his stiff cock slide into my butt. My bum is so tight that I let out a loud shriek. I don't know if he can fit. He's really stretching me, but I love the pleasure and pain. I tell him to cum in my ass and he spanks me hard and tells me he's going to "fill me up." I then feel him pump his load deep inside my big round booty. The other guy then spunks on my face and I lick my lips. I then wash the all the jizz away and get the best nights sleep I've ever had!