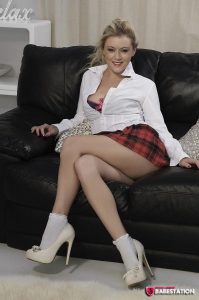 Brookie Little
Brookie grew up in Surrey, but now she's a Bristol girl; we're sure there's a gag there pertaining to those big boobs, but we won't push our luck! She is quite literally the girl next door who loves to do all the regular "girly" stuff like shopping etc, but she's gone a little bad. Her ability to look innocent and then filthy has made her a very popular Babestation asset; that of course and her big natural tits!
Her early modelling career led her neatly into webcamming and working on the babe channels, and she has gradually worked her way up to Babestation, where she now works on nights, Babestation X and Babestation Cams; she doesn't however have any aspirations to move any further into porn than her solo shows.
Sex and the ideal man
Brookie has a tendency to appreciate the tall, dark and handsome types more than anything. She likes the idea of the "whole package" too, as she says in her sweetest voice. The attractive, witty, highly sexed guy with the good job and regular pay packet is the type, but says they "don't come around very often!" She eventually wants to have a family and be "the mother that stays home and looks after the kids" Imagine having those big tits and that pretty face to come home to after work!
As far as sex is concerned Brookie likes her men to take control. She's naturally submissive and doesn't mind it a bit rough at times. She can also be a bit of an exhibitionist when it comes to sex, and confesses to doing it during the day on her balcony of all places!
Top Tips
Brookie doesn't demand much from her callers; only that they talk back. She has much more fun when she can fully interact with the guy on the line. Guy's that "get into it" are Brookie's personal favourites, so use these notes fellas and get on the phones!