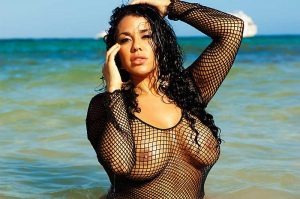 Dani O Neil
Dani O'Neal Vital Stats:
Height:  5ft 8
Measurements:  34DD-xx-yy
Astrological Sign:  Aries
Birthday:  19th July
Nationality:  Spanish
Babeshow icon and glamour legend Dani O'Neal isn't called the 'First Lady of Babestation' for nothing. This brunette curvy babe has been on Babestation since the very beginning in 2003 and has stayed at the top of her game until she retired from the babe channels in 2016. However, even though she hung up the phone on her phonesex career you can still find her getting nude and topless on webcam and on BSX where she loves to flash her pussy and big tits.
A total sexual deviant and porn legend, Dani O'Neal has many naughty talents when she steps in front of the camera which is why her clips are still raking in thousands of views on Pornhub. She just oozes sex appeal and she can go from being a cute girl next door type dressed as a college girl to a slutty Milf or dominatrix, clad in latex and PVC while demanding you worship her feet. Dani loved her phone sections to be full of filth and you'd often find her oiling up her big tits and ass or making out with her friends Tiffany Chambers and Amanda Rendall.
Dani O'Neal is genuinely bisexual so when it comes to lesbian girl-girl scenes on webcam, Pervcam and BSX, Dani would always put on a spectacular XXX show with lots of fingering, ass eating and squirting action. Ladylike and well spoken, Dani can turn into a raging UK porn sex goddess at any moment, talking pure filth about how she loves anal, deepthroat, lesbian fun, BDSM and naked oil shows. If you want to hear Dani gagging on a dildo and watch her epic BJ technique, be sure to check out her cam and BSX shows or head to the VIP members area for hardcore pics and vids. Keep updated with upcoming shows and nude pics & videos on the Babestation Twitter account.