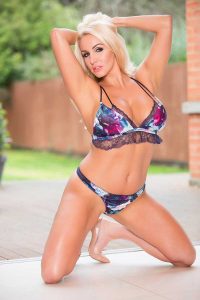 Dannii Harwood
Dannii is an absolute legend in this business and has led an extraordinary life. From a young age Dannii knew she was special; she was always dancing or performing for family members so at age 11 her mother enrolled her in a dance class where Dannii realised she had a natural flare for the arts. She studied ballet, jazz and musical theatre and it wasn't long before Dannii landed her first big role on the west end stage. Dannii adored treading the boards, but she wanted more!
She always knew she was popular with men so she thought she would try her hand at modelling. After all, she had already conquered the west end theatre scene, modelling was the logical next step.
Dannii took a few snaps of herself and sent them in to a few agencies. Almost every agent wanted to represent Dannii. It didn't take long for the work to come rolling in. After just 2 years Dannii had appeared in every lads mag there was – Loaded, Ice, Bizarre, Nuts, zoo, not to mention all the newspapers. Dannii Harwood was a sensation, but Dannii being the go-getter she is, wanted even more. That's when Dannii heard of a TV babe channel hiring models for their show and the rest is history.
This blonde, red lipped bombshell can do it all. She is smart, witty and kind, and despite being one of the top glamour girls in the UK, she remains down-to-earth.
Dannii Harwood Vital Stats:
Height:  5'6
Measurements:  34E-26-36
Astrological Sign:  Aquarius