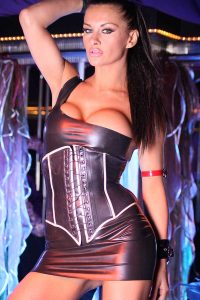 Dionne Mendez
When it comes to Babestation icons and pioneers of the babe show industry, you needn't look any further than Dionne Mendez. The tanned & toned brunette MILF bombshell is so much more than a cracking set of boobs and pert round ass. We're going to take you through the history of Dionne and how she has carved out a long and successful career in the adult industry.
Through her many years of service, dating back to 2003 and Babecast TV, Dionne Mendez has been one of the most respected and revered glamour girls of her time. A highly experienced presenter and an articulate phone sex operator, Dionne became a leading lady on Freeview when she first appeared in the iconic Party Girl series in 2008. Dionne represented high-end glamour and interactive versatility and her down-to-earth manner, coupled with her boundless energy and wild sex positions made her the go-to model for viewers up and down the country.
Some moments that stand out throughout her vast career on Babestation will forever be her girl-girl 241 phone sections with Dani O'Neal and some very raunchy cutaway clips of Dionne Mendez and Amanda Rendall locking lips and spanking each other's ass. Other memorial segments include her 'shower hour', which saw her soaping up her boobs and rubbing her pussy over her panties. And let's not forget her oil sections, where Jemma Jey or Tiffany Chambers would dribble oil all over Dionne's big tits and awesome ass.
Dionne Mendez wasn't only a genius when it came to dirty talk and roleplay, her presenting skills were unparalleled. The mic would often be kept live for long periods of time whilst Dionne spoke of her past sexual encounters and exploits.
Dionne was a glamour babe who wore her heart on her sleeve and her bond with her callers was next level. One particular example that stands out is when Dionne broke in tears on BS Xtra after receiving a flood of goodbye messages from fans after hearing that it was to be her last night at Babestation. The viewers clearly had a lot of love for Dionne and they meant a great deal to her too.
After Dionne's exit from Babestation she was involved in a number of projects, including stints on Bluebird TV, Redlight Central and a few lesbian girl girl scenes on BSX. There aren't many babes in the industry who can realistically be described as a legend but Dionne Mendez deserves one such title.