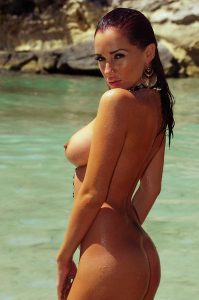 Georgie Darby
Georgie is renowned for her filthy mouth and sometimes abhorrent sense of humour and attitude, but she remains one of our most popular girls. She's a South London girl, "born and bred innit" as she says. This gorgeous Babestation girl likes to do nothing much at really, all except perhaps drink and have lots of fun. Not that she hasn't been busy before however. Georgie has been in Page 3, Playboy, Zoo, Nuts and "all that sort of shit, for fackin years!" as she tells us in her own inimitable way.
Georgie Darby is one of those girls who likes to soak up experience and enjoy life. She's keen to travel and although there are loads of places she has yet to go, her last trip to Australia was a very memorable one indeed, and she'd very much like to return at some point. She also likes to keep fit in the gym around twice a week. She says she doesn't go more often because she sees her job at Babestation "as a workout… you're humping thin air all night!"
As far as the future is concerned, Georgie wants to do this for as long as she can. She says she'll "keep getting her tits out until people are bored or until they start drooping…"
Sex and the ideal man
Georgie doesn't really have an ideal man, except she does have a connection to men with big hands for some reason; she also likes funny guys with tattoos. As far as sex is concerned, Georgie tells us, again in her own unique way, she likes it "Rough and up the shitter!" Also If you have a Georgie Darby foot fetish, she's keen to hear from you too, because she tells us that she quite likes her "toes being sucked".
Top Tips
Georgie loves the nutters! She has a tendency to warm towards the crazier ones out there probably because she has an affinity with you all. The crazier the better for Georgie, she gets along with them so well.