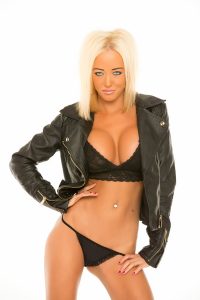 Kerrie Lee
Kerrie Lee is a petite platinum blonde glamour model who has earned the title of the "Oil Queen" by fans who can't get enough of her oiled up tits and ass during her epic shower and oil shows. Kerrie doesn't just pour a bit of her oil on her big boobs, she goes hell for leather and uses an entire bottle until her ass and pussy are dripping. Kerrie Lee is also a professional dancer so this babe knows how to twerk and move her body in a sensual way. She'll often post erotic dancing videos on Twitter and Instagram, showing off her phenomenal figure but it's webcam where she really lets loose, and you'll get to see plenty of spread leg pussy action.
Kerrie Lee has the mouth of a porn star and the body of a dancer – slim and petite with long shapely legs but with a cracking set of augmented breasts. She looks like she's just stepped straight out of Baywatch! All she's missing is the red swimsuit!
Kerrie loves a crazy night out on the town with her friends and will often indulge in some karaoke if the mood takes her. Kerrie isn't just a whirlwind of mischief though, she has a softer side! She's a devoted animal lover and will do anything to help out a friend.
What do you enjoy most about being a Babestation Cams girl?
I love being a dirty bitch and getting treated like a princess by my callers.
How would you describe yourself?
I'm a petite minx who loves to watch hardcore porn and take inspiration for my filthy cam shows. If you're looking for a quiet and shy girl who just lays on her back then I'm not the one to call. My shows are energetic and filthy!!!!
What happens in a Kerrie Lee webcam show?
I love to get messy with oil, cream and chocolate sauce. I love to cover my naked body in as much oil as possible with the fantasy of you watching me and joining in the slippery fun
What's your favourite outfit to wear on Babestation Cams?
I have lots of sexy lingerie, stockings and roleplay outfits (college girl, nurse) but I prefer to be completely naked
What turns you on?
I love to watch you wank your cock on C2C
What's on the Kerrie Lee sexual bucket list?
I'd like to join the mile high club
Do you have a fetish?
I like being worshipped as a naughty dominatrix during a BDSM cam show. I may be small but I know how to give out orders and make you obey me
What do you look for in a man? 
A strong man who can take control in the bedroom and enjoys rough sex with lots of spanking and hair pulling
Does dirty talk turn you on?
I love sex chat. Sometimes in my daily life I'll make rude and naughty innuendos to bar staff and waiters because I'm so used to to talking dirty lol
Are you a fan of spanking?
Oh yes. The harder, the better!
What do you like to discuss with your callers?
I like telling my callers how I'd fuck and suck their cock but I'm happy to talk about whatever turns you on
What's your favourite sex toy?
Satisfyer clit sucking toy, anal beads, butt plug and Lovense Vibratoy