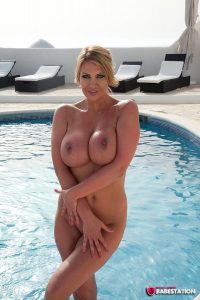 Leigh Darby
Leigh Darby is a 5'11 amazonian MILF who is is larger than life with the personality to match. Being an older woman, she has a lot of life experience. She is mature not only in years but in mentality but that doesn't mean she's not playful. She loves to laugh and have fun and what's more, she has decades of sexual
experience and knows how to tease men…and women. Life is too short for inhibitions!
You may have seen Leigh in many X-Rated films over the years and she has worked all over the world on different productions. She is highly sought after in this business and once you've seen her porn scenes, you'll see why. This girls an absolute dynamo! Her energy and sexual prowess are truly captivating and you can see she genuinely enjoys what she does. Leigh believes that indulging in sexual fantasies is one of life's true pleasures and she lives by that mantra on a daily basis.
Leigh is strong and powerful woman that no man can resist!