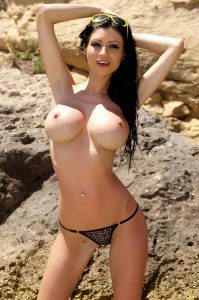 Lilly Roma
Lilly Roma is one VERY Hot Babe! Originally from Romania, she has been a regular on our screens and her fans know exactly why! This 32FF-25-36, green-eyed beauty has made a huge name for herself in the modelling world, especially when we start talking about those tight fitting PVC outfits! It's not difficult to understand why this bodacious babe is so popular, especially when she is in latex.
All major babe shows have had Lilly Roma on board, such as Red Light, Studio 66 and obviously, the kings of them all, Babestation TV! In 2013, Lilly Roma was voted Ultimate Babe by the fans on the Babeshow's forum and it's easy to see why! Her strip-teases are legendary, even when she is wearing the tightest of tight latex outfits – she can make you hot under the collar just watching!
"There is no denying that she is really hot with legs that go on forever!" – this is just one of the comments from Lilly Roma's adoring fans and there are so many about her legs and feet, it's a wonder the camera ever gets past them.
More related comments from foot-mad fans of Lilly Roma on the internet:
"I've been a lover of feet for years but I have to say Lilly has some of the sexiest feet I have ever seen. They are always perfectly pedicured with sexy nail varnish complete with hot toe rings."
"Lilly's feet are the stuff of legends, she definitely knows how to work them"
"Lovely to see a girl who takes care of her feet and is willing to please her callers by putting them on display… and knowing that if you can drag your eyes away from them, you'll be treated to a stunning body wrapped in black latex, and a beautiful, pretty face, somehow makes them all the more appealing."
She adores pleasing her fans and keeps them up to date on her Twitter account whenever she has a moment and loves being on Babestation Cams as much as possible, to keep them all happy!
Click here to see if Lilly Roma is online on Babestation Cams and book a show with her!