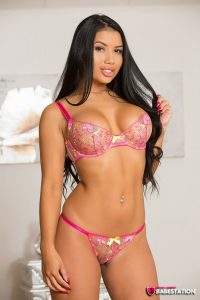 Nicole Snow
Nicole Snow is a curvy stunner, who first entered the world of glamour modelling when she was only 20 years old, and has since posed topless for The Daily Sport. She loved showing off her body and from the very first time she saw her model pictures published, she was hooked and Nicole Snow, the glamour star was born! Nicole Snow Nudes can also be found in Playboy, Elite Online Magazine, Nuts, and many more lads magazines sold across the world.
She had already made quite a name for herself when the opportunity arose for her to work on Babestation. Getting naked on TV was an exciting opportunity which Nicole relished, and does so every time she appears on the Babestation Schedule. This in turn has given her a greater fanbase through social media, such as X (Twitter) and Instagram.
Her exotic looks, tiny waist, and glorious round ass are utterly mesmerising. Nicole loves going to the gym, eating out, and has a hilarious sense of humour. The Babestation Fans, and other Models, often comment on her witty banter. Nicole is also a keen globe trotter, having travelled to over a dozen countries. This babe may be a model but she's no bimbo; she is well read, down to earth and a total package!
Nicole Snow Live Babeshows
Nicole Snow has made a huge impact since starting on the Live Babeshows, with callers rushing to speak to this raven haired half-English, half-Thai beauty. Her performance on the show is seductive, alluring, and energetic. Whether she's giving you a hot JOI, describing her impressive blow job technique or getting into all sorts of XXX rated sex positions, showing you her ass and feet. You can see more of her via Pervcam where Nicole doesn't only tease you, she makes you crave her pussy.
Nicole Snow Nude Gallery
Nicole Snow is a gorgeous brunette Babeshows model, who stands at 5'3″. This curvy temptress has a big ass, big tits, and tiny little waist! Nicole got into the British glamour industry at the age of 20 after being asked to pose for the Daily Sport. She loved it and went on to pose nude for Playboy, Elite, Nuts Magazine, and other lad magazines. Her Thai heritage gives her a stunning, exotic appearance that UK Babe Channels fans just can't leave alone! Click the link above to find a selection of pictures from Nicole Snow's First Nude Photo shoot with Babestation. If you want more Nicole Snow Nudes and Nicole Snow Porn Videos, you can find everything she's done in our VIP Members Area!
Are brunettes your bag? Well there's an absolute shed-load of them across the babeshows on Babestation TV! Nicole Snow took part in our Babeshows Brunette Photo Shoot featuring legends of the babe channels like Alice Goodwin, to newer faces such as Kourt Thora. Click the link above to find a selection of topless pictures from some of the hottest current brunette babes on Babestation, including Nicole Snow Nudes. If you want to see naked brunettes, all the girls have much raunchier content available in the Babestation VIP Members Area!